Small Molecule Drug Discovery
Automation and Miniaturization Leads
to Robust Screening Campaigns
SMALL MOLECULE DRUG DISCOVERY SERVICES
One of the challenges in drug discovery and development is miniaturization. Miniaturization is key to automating small molecule discovery, facilitating higher throughput, increasing reliability and accuracy and reducing costs for screening large compound libraries. We have a solid track record in miniaturizing challenging assays to 384- and 1536-well formats for medium to Ultra-High-Throughput Screening (uHTS), and are experts at lab automation solutions to accelerate drug discovery.

Unprecedented Remote Access to a
Smart Drug Discovery Laboratory
Strateos' smart labs collectively span over 14K sqft and are composed of automated workcells that integrate hundreds of instruments which include a wide range of robust liquid handling instruments, accurate dispensers, plate washers and more to support miniaturization and automation of challenging biochemical and cellular assays. The robust integration of instrumentation, software and processes allows Strateos to offer automation as a service on demand to drug discovery researchers and scientists worldwide.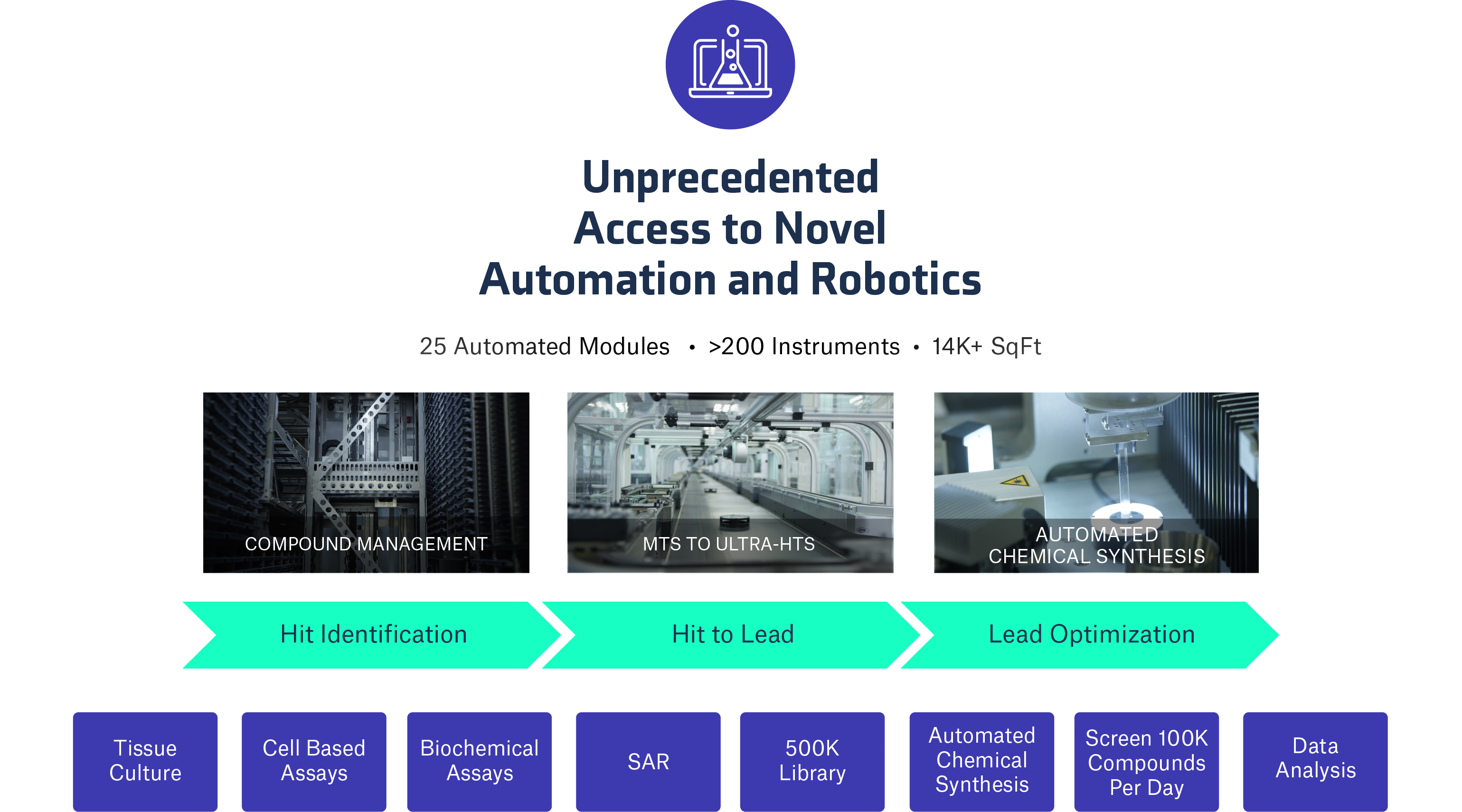 Learn More About the Automated Small Molecule Drug Discovery Modules
The smart lab physically and virtually integrates several areas of the drug discovery process together creating a state-of-the-art, automated drug discovery platform. The custom engineered Magnemotion track based layout, and scheduling and execution software integrates the automation modules, contextualizing data in an end-to-end laboratory workflow. By melding automation and drug discovery, the Strateos Cloud Lab can be the engine for a winning go-to-market strategy for your next drug launch.
Click on the Images Below to Learn More
About Our Automation Modules
Interested in a Demo?
Get in touch today to get access to the Strateos Platform for your team.