High Content Screening and Imaging
HCS is an image-based technology that utilizes automated high-throughput microscopy platforms to study cellular mechanisms, pathways, processes and events. Small molecules, peptides and compounds that impact the morphological phenotype of a cell can be conveniently screened with HCS, utilizing the Strateos HCS platform.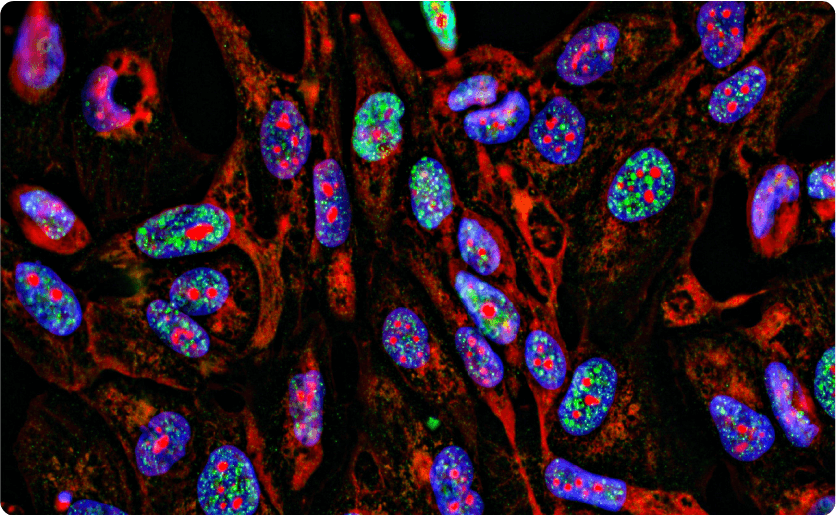 Our goal is to help our customers link molecular and cellular functions throughout different tissue and organ structures. Through our innovative tissue profiling service, we help enable researchers to identify disease-causing transitions earlier in the onset of disease so they can intervene with more insight and at earlier stages.

Why Utilize HCS?
With conventional microscopy, the number of images obtained are limited since the workflow is performed manually. Consequently, large imaging datasets are difficult, if not impossible to obtain.
In contrast, HCS does not depend on human analysis of images, and instead is driven by algorithms. HCS microscope systems are highly automated, can run unattended for extended periods of time, and are able to perform repetitive imaging tasks continuously. As a result, HCS is capable of generating very large and valuable datasets that are amenable to robust statistical analysis.
Additionally, in conventional microscopy, it is extremely difficult to discriminate between subcellular objects above and below the focal plane; HCS is able to capture serial focal planes of a thick section, clearly differentiating overlapping subcellular objects.
See how you can leverage HCS with Strateos' Drug Discovery Platform
Resources
Browse our collection of whitepapers, case studies, blog posts and videos and learn more about Strateos products and solutions.
Interested in a Demo?
Get in touch today to get access to the Strateos Platform for your team.