Accelerating Riboswitch Engineering for the Development of Human Performance Biosensors
April 12-14, 2022
OAKLAND, CA
The Global Synthetic Biology Conference (formerly Synbiobeta Live) is one of synthetic biology's premier events, bringing together a diverse community of thought leaders, technology innovators, engineers, scientists, and policy makers to explore the exciting new advancements that are shaping the future of science. Strateos is pleased to take part alongside other industry and academic peers like Ginkgo Bioworks, Synthego, Stanford University, Harvard University and more.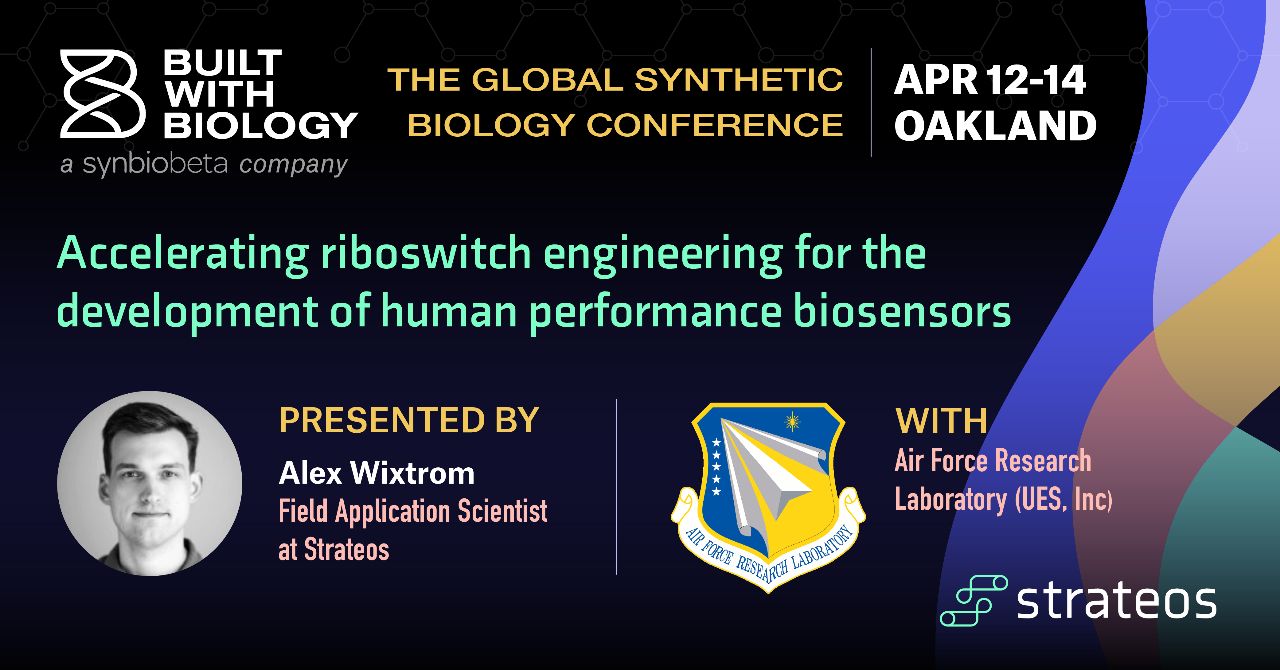 Alex Wixtrom, Field Application Scientist, will be delivering a presentation on Thursday, April 14, 2022 at 2:30pm PST entitled Accelerating Riboswitch Engineering for the Development of Human Performance Biosensors, where he will share our recent client collaboration with the Air Force Research Laboratory using Strateos' automated cloud lab to accelerate rational design of novel riboswitches as biosensors that recognize the biomarker serotonin. Owing to their modular organization, riboswitches are ideal for engineering de novo sensing elements for use in synthetic biology.
Learn how Strateos' automated synthetic biology modules supported rapid, iterative screening of RNA sequences in modular PbuE expression system and E. coli extract-based cell-free protein expression assays. Reducing the Design-Build-Test-Learn (DBTL) cycle times and generation of model-quality data through automation enables faster, more agile movement through synthetic biology pipelines.
Resources
Browse our collection of whitepapers, case studies, blog posts and videos and learn more about Strateos products and solutions.
Interested in a Demo?
Get in touch today to get access to the Strateos Platform for your team.